NEWSFLASH!!!! Pirata de La Historia wins Reserve Winners Bitch & Best Bred by Exhibitor
at the 2013 National Specialty. Described as "FLAWLESS" from world renowned dogo expert & judge
Horacio Rivero, from one of the breeds foundation bloodline Totoral Kennel.


Comanche de La Historia wins Bred By Best of Breed and BOS at the
AKC/Eukanuba National Championship under FCI Judge Hiroshi Kamisato.
Thanks to Brian and Jessica for all of the hard work and dedication it took to get him to where his is now.
The Dogo Argentino has made it into Best Selling American Literature. James Paterson has made mention of our magnificent breed in his new hit novel "Zoo". Pick up a copy at your local book store or maybe even half.com!!!!
In the Ring:
Bravucon Comanche Pirata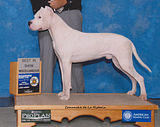 In the Field:
Chiva/Bravucon Berrinche Abuelita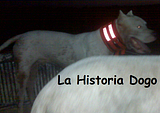 On the Sleeve: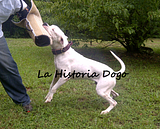 On the Course:
Bandolera Mariela
Pirata was the #1 Dogo Argentino in the AKC in 2011.
Welcome to La Historia Dogo!
Home of "CM" Pirata de La Historia
The First Dogo Argentino to Achieve a Conformation Title in the American Kennel Club. The Number One Dogo in the Country for 2011 with over 17 Best of Breeds with competition also many multiple Best in Show(Miscellaneous) with competition!
2011 BOS/BJIS/WB of the National Specialty under judge:
Dr. Jose Luis Forlla of Kennel Litoral

NEWS FLASH!!!!! 2012

At his First cluster of shows EVER,
Comanche de La Historia BOS/Best in Show at the TEXAS WORKING DOG ASSOCIATION
(Comanche has defeated Multi and International Champions)

CM Pirata de La Historia was Reserve Best In Show at the TEXAS WORKING DOG ASSOCIATION



Bringing Together Then and Now....Breeding for original Temperament, Conformation, and Drive. We stand behind every dog we breed, we guarantee them to be true to type in every way. We choose our Sire and Dam after personally learning, meeting and understanding many of the dogos in OUR DOGO'S background. This includes knowing their health, conformation, hunting ability and temperament of our dogs, their parent's and grandparent's and further on. We breed for the complete dogo, ready to work in the field, win in the ring, and be the family companion all in one.
SCROLL TO THE BOTTOM FOR THE EAR TAPING(POSTING) VIDEO!!!!!



CLICK THIS PICTURE TO SEE WHAT WE FEED OUR DOGOS.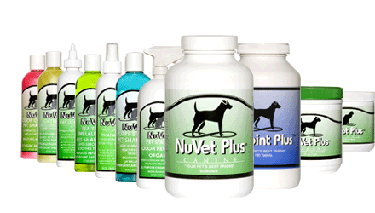 Click image above to visit Nuvet Labs Store for what we use with All of our Dogs!